Shopping Cart
Your Cart is Empty
There was an error with PayPal
Click here to try again
Thank you for your business!
You should be receiving an order confirmation from Paypal shortly.
Exit Shopping Cart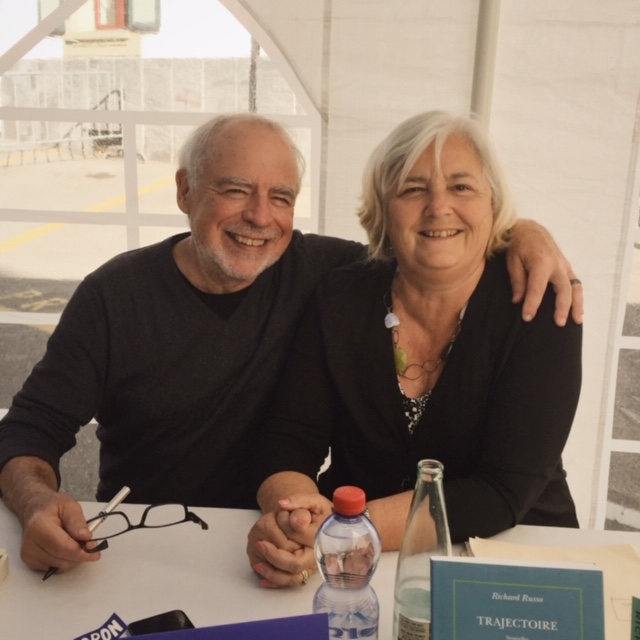 I am just home from the most unexpected three-day experience in Switzerland – sixteen years of living in this country – I've never seen anything quite like it. A literary festival featuring American writers in Oron-la-Ville – not far from Savigny, a rural area where I take my dog to stay when I travel. We are now a couple of hours, depending on traffic, from Geneva. To be exact: L'Amerique a Oron, Festival de Litterature Americaine en Terres Vaudoises, featuring Richard Russo, Laura Kasischke, Michael Farris Smith, Jean Heglund, and Christian Kiefer. My mind is boggled that this thing just happened. And a ton of Francophones interested in American writers were all there, engaged, interested, buying books, asking astute questions through translators or their own English. I feel like I dreamed it.
Au contraire, mon frere! Thing was real.
I am wearing the same blue and white sweater I got at Target ten years ago and Banana Republic tank with the ruffled bit at the neck that fits nicely with this sweater, jeans and low-heeled blue boots intended to make my legs look longer because of the way they match my jeans, (as if...) I'm telling you all this because it's preparatory for what I want to tell you, which is all about my literary hero Richard Russo being here for three days, and I am so very aware that I won't be able to do it justice. But I at least want to deliver the FACT of it. The reality that this amazing, brilliant, generous person was here, along with three other outstanding writers (Laura K, sadly, couldn't make it, due to illness) in a little teeny town in Switzerland, twenty minutes from my place – surreal, really – and I'm still wearing this outfit in which I gave him a hug good-bye earlier this afternoon, with promises to see him and his wife again SOON. As soon as possible, in any case. Barbara Russo is as wonderful as he is. And together they are as wonderful as they are individually. Someday I hope I'll get to meet their daughters and sons-in-law who I can only imagine are all completely cool too. You never know! Stranger things have happened. I'm fifty-two years old, and already it's just so MANY times I've found myself marveling at that fact: stranger things have indeed happened. And keep happening.
Sometimes the would-be writers' life is just so astonishingly privileged, even set against our numerous set-backs. The set-backs fade into nothingness in the presence of certain great moments, and these three days were one such moment after the next. Hearing Rick Russo, Jean Heglund, Michael Farris Smith, and Christian Kiefer speak on "Being a Writer in Trump's America" and later, "Writing from My Surroundings" (if I translated that correctly) right here, practically in my neighborhood, was a wonder.
By the way, I call myself a would-be writer, and that IS how I see myself, even though I'm obviously an active writer, a REAL one, you might say, writing every single day, whether it's poetry or essay or blog posts or Facebook introductions of important things in medicine or politics, edits, what-have-you. And I've got two novels published that have been shortlisted for awards (won stuff, even!) and received very gratifying reviews, and a cookbook that earned Amazon's number one bestselling status in the world – in its category – for a nanosecond. Of course, a person better at PR would only mention the first part of the cookbook's kudos, I recognize. Number One Bestseller. I do understand the benefit of being better at PR, but I come back to the 10-year-old Target sweater and repeat: I'm trying to deliver reality right now. (Anyway, it's kind-of a cute sweater). But my point here is to say where ever you are on the spectrum of your own goals, there's always the reach, the striving, the failures and successes that dot the path. And the surprising experiences of encouragement that pave the more successful parts of that path are priceless. Richard Russo is the biggest golden brick on my personal yellow brick road. (Had to get at least one little Kansas reference in here). He's an excellent instructor as well as writer. If you're a writer and have any possible opportunity to work with him or learn from him, by all means, take it. His newest book, 'The Destiny Thief: Essays on Writing, Writers, and Life' will no doubt deliver much of his wisdom in this regard. I will call my favorite bookseller Matt at Books Books Books and order it ASAP.
There are plenty of people who've heard me gush about Richard Russo's fiction. I first read 'Straight Man' when I was a young mom and my dad recommended it to me. He had never recommended any fiction writer to me before, and none since. His whole life, other than his family and his education (and an incredible sideline as a magician) has been Business: Capital B. So a fiction recommendation was a big deal. I bring this up with him today and although he has no memory of it, it pleases him. We have copies of 'Straight Man' in his house, my house… everywhere I go. The joy of laughing out loud at the absurdity an author can elegantly deliver on the page is unequalled, and Richard Russo is the best. He turns a seemingly hopeless, nonsensical situation of business or academia or relationship into a joy to behold. Under his watchful eye, things seem to work out. Not just in his fiction, but memoir too. Even when they kinda don't. Because, you know, human foibles.
This morning he described his mother taking him to Martha's Vineyard when he was a little boy because she wanted to show her son that a place existed in the world where things were better, things were good, where happiness could thrive and develop and be sustained. (Unlike, he pointed out, the town where she grew up or the blue collar shut-down mill-town where she was raising him). Whether her message was 100% accurate or not (probably not, Rick noted) her point was stunning. As a mother myself, I want to think my boys will know I've tried, time and again, to show them I too believe the world can be beautiful. Maybe not specific to place. I've never been to Martha's Vineyard – but I get around – and yet I can't think of a unique place that would in some way prove this concept. Still, however it's delivered, I think the lesson is vital. Joy – or at least contentment as one goes about one's business – can be sustained, and it's well worth pursuing. I love how much Richard Russo values his mother's effort to prove this to him. (Today I also learned how difficult it is for a Francophone to say Martha's Vineyard in English. A brief but exquisite pleasure there, in Oron-la-ville). Anyway, I hope I'm also showing my boys examples of how and where this sense of sustainable contentment and fulfillment sits. Good work, good people, good books, goals, dreams. Stay open to the possibility of awesome surprise. Pack your bags full of that, and take yourself to Martha's Vineyard or elsewhere.
'Nobody's Fool' is probably my favorite Russo novel. It has been years since I read it, but many scenes – and certainly the characters – remain vibrant in my mind. The festival showed the 1994 film of the novel last night, and my friend Liz and I stayed to watch it. A kind of old-fashioned (very Swiss!) movie theatre with deep cushioned blue seats, carpeted walls where kids have petted their names into the nap like innocent graffiti, (looking at you Marie), and the room at the back appears to still have all the old reel-to-reel technology. Meeting Sully and Miss Beryl and Rub Squeers and Carl and Toby Roebuck on the big screen in this Swiss movie house was bizarre. Chilly evening, darkness descending outside in the town square with the now-empty authors' tents set up and burgers on the grill (I ordered mine a point which is medium-rare, because here we determine how we like our meat, even burgers) and little kids on bikes and people drinking wine and talking about literature and real life and what-have-you by the fountain until the wee hours as those of us seeing the movie went in to the theatre. My car was parked next to the church right nearby. All lovely and surreal. Especially as the film was then introduced by the author himself, before he disappeared with the festival committee for fondue.
My parents had a remarkably successful marriage, but if there was EVER going to be a threat to it, it would have arrived in the form of Paul Newman. My mom was so into him, I think it must have been a case of Jane, Ron and Paul in our house. My dad decided to just accept it and painted her a poster of Paul Newman with his tee-shirt torn open and a pre-Photoshop "tattoo" added over his heart that said "Janie." Swoon. She loved that so much she then had my dad make that poster into a coffee table, orange frame and legs, which is probably still in their house somewhere. She loved my dad's sense of humor most, but his skill as an artist also served their marriage well. So what I'm trying to say here is I was raised to believe Paul Newman is a god. And I'm sure he is. But he wasn't my Donald Sutherland from 'Nobody's Fool.' MY Sully, as Rick wrote him, was someone else. I hadn't seen the movie before, and again, it's been YEARS since I read the book. But my commitment, my understanding of these characters in this novel is nearly visceral. As real as this three-quarter-length-sleeve sweater I keep banging on about. That's not to denigrate Paul Newman (nor Bruce Willis who just couldn't be MY Carl Roebuck, as awesome as he was in the role) or any of the other excellent cast members, but it's to say the novel was as real as real can be. Even this many years later. And yet, it's entirely fiction. Rick said this morning he prefers the fun of telling lies over writing memoir. Language note: lies = mensonges. Writing lies that stick, that remain in your heart and soul, clearer than truth, well, I don't think we can find a translation for that.
Nonetheless! Russo's memoir 'Elsewhere' is a beautiful view of his relationship with his mother and his wife and the development of his writing life. He says he stuck rigorously to the skeleton of truth, places and dates, when he wrote it, and added dialogue as necessary. He drew from the things his mother said over and over, throughout her life. Was this dialogue exact? Well, no. But was it true? Absolutely.
When I read 'Elsewhere,' I was in the early stages of losing my mother to Alzheimers and I felt encouraged and seen and connected, page by page, as I met Russo's mother through his book. My mom was feisty, smart, frustrated and frustrating, judgmental and abundantly loving, quite vulnerable and incredibly strong. I saw those same characteristics through 'Elsewhere' in Rick's mother. She had a short-term episode of cognitive decline, unlike the relentless progression of decline my mother had, but it still felt familiar and comforting to read it… and to see how selfless and supportive his whole family was when his mother was at her worst. When I then flew to Sirenland, the writers conference in Italy where I would first meet Richard Russo a couple of years ago, I was able to greet him and his wife at breakfast to say how much that book meant to me, how very pleased I was to be in his workshop, and how certain I was that his wife is a saint.
My friend Liz asked me a month or so ago where to start in the Russo oeuvre (conveniently French and English at the same time, there!) and I told her 'Nobody's Fool,' followed of course by the follow-up, more recently, 'Everybody's Fool.' But 'Elsewhere' would have really been a good choice… especially since she was about to meet the man in person. Starting with 'Risk Pool,' or his first novel 'Mohawk' would be equally good choices, or she might have begun with one of the short story collections, sampling his writing styles and characterizations like a marvelous degustation. He won the Pulitzer for 'Empire Falls' in 2002, so I'm sure she'll make her way to that one soon enough. But there are so many wonderful Russo novels and places and characters to meet. When asked why he always centers his work in Upstate New York, he said of course those towns are variations of his home town of Gloversville (another hard word to say in French), but he does take his stories farther afield – into Europe even – and there will surely be a story in Switzerland eventually. But where ever they are, they ought to be viewed as universal. And I have to agree, that's how I see his narrative arc every time, no matter where it's set.
I mentioned that so far, I've published novels and a cookbook. My second novel, although aimed for adult readership, has earned its accolades in the Young Adult reader community. So inadvertently, I guess I am a writer of both Adult and Young Adult, in addition to non-fiction. In any case, as an author, I am what I am -- Nancy Freund. Sometimes people ask if they should use pseudonyms for writing different genres. The answer, usually, is no. If the emotional delivery an author presents is recognizable and consistent, regardless of whether you're presenting Mystery or Thriller or Young Adult or Poetry or Romance or Literary… you are the same author. Richard Russo's work exemplifies this truth wonderfully. You know that despite some rotten things (even tragic, awful things) that might happen in his stories, hope rises to the surface. People ultimately are salvageable. Their morals are challenged, but they eventually figure out how to get things right. Despite the odds. And the odds are certainly odd, and often hilarious, in his fiction.
Considering the extreme absurdity of our social and political culture in the U.S. today (and I say this very gently because if I don't use the word "absurd" I would otherwise use words like tragic or heartbreaking or terrifying or divisive or dangerous), but considering today's relentless absurdity, I can't think of a better use of fiction, a better time to meet one's most revered writer of humor-plus-substance than now. Driving from my house through Swiss fields full of cows and corn and bales of hay to meet Richard Russo in the back room of the Union Café, décor charmingly unchanged, I'd say, since 1984 if not longer, was a true blessing of this writer's life. The Christine Blasey Ford/Kavanaugh hearing was happening as I drove there for the opening round-table event, classical music on the stereo, sun overhead. Fields in the foreground, mountains in the distance. Richard Russo and his wife, his charming French publisher and his writer colleagues, whose work I am now eager to discover, were there waiting -- with their individual versions of optimism and intellect for all.
Great big enormous thank you, Universe.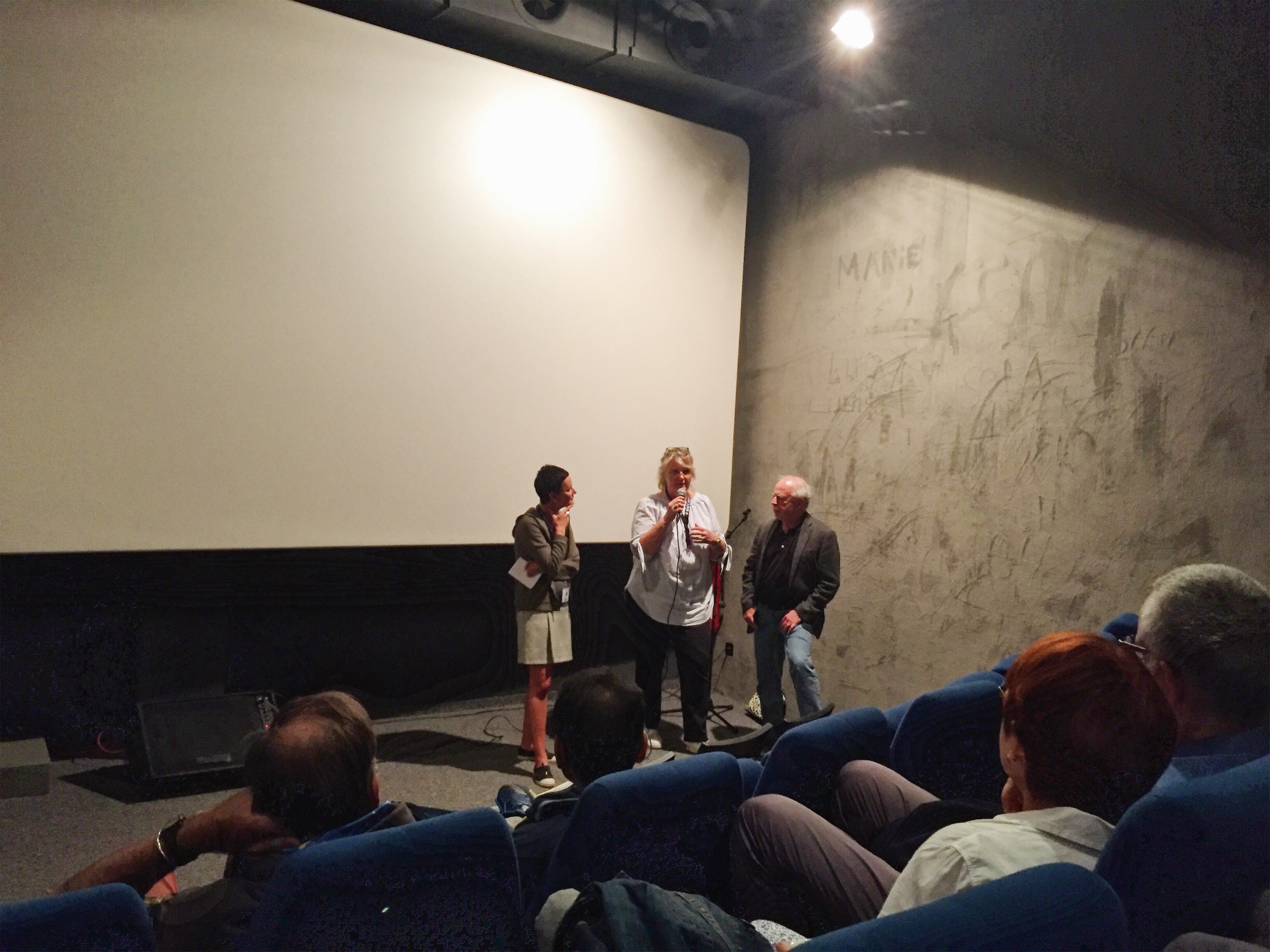 Categories: writing & publishing, expat, travel, & cross-cultural issues, marriage, parenting & family
Comments are disabled.
/